Patient's heart at your fingertips
Any patient can now be kept under full surveillance.
Monitoring Software, Apps and Live Panel
Timely information on patient status is crucial to accurate diagnosis. In today's busy healthcare environment, doctors and nurses don't have time to stop what they're doing and perform tests—or scroll through records—to see each patient's vital signs. They need the ability to access and review clinically relevant patient data from multiple locations—whether in the EMU, ICU or PSG lab.
That's where the BioSigns Live View Panel comes in. This convenient display screen allows for intuitive real-time management of neuromonitoring data from a central location.
Our screen saves time by letting healthcare providers check the information they need at a glance. The customizable Live View Panel interface provides color-coding and placement of vital sign information (Heart Rate, SpO2, ECG, EEG, PSG) based on variables such as patient location, acuity level, physician or data modality. Medical professionals determine what information to display depending on patient needs and type of facility. This ability to tailor information from diverse patient populations ensures caregivers see the most relevant information, resulting in quicker interpretation and better quality outcomes.
With our consistent service, accessing information remotely is as reliable as seeing it face-to-face. BioSigns devices have built-in Wi-Fi and 3G communication for unparalleled connectivity with remote caregivers.
The device transmit data to the BioSigns Server, where it can be accessed by the PC software and smartphone apps for near real-time monitoring.
The software display provides near real-time traces, trends and graphs and includes configurable alerts for each of the collected parameters. Its array of features, such as data collection, cardiac event analysis and a variety of PDF reports, make it versatile and customizable to your needs.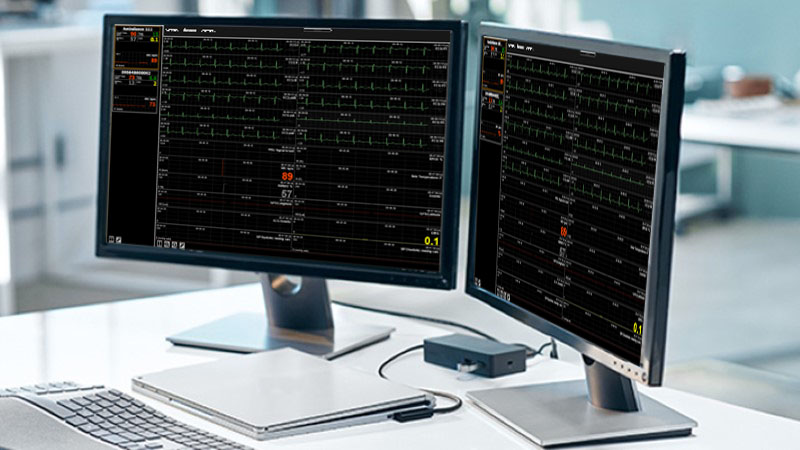 Features:
Alerts are displayed in color-coded message boards.
Audible notifications can be configured.
Can be synced up to third party messaging systems to give alerts to any connected caregiver.
The PC software works on Windows 7, 8.1 and 10, and the apps are available for Android and iOS.
In today's world, we check our email and other apps on our phones and tablets. BioSigns makes it just as easy to review real-time patient data—view on any PC and mobile device, in or out the hospital or via an online secure Web portal. Just like a monitor, the BioSigns interface shows clear all available patient vital signs waveforms, including patient 12-lead ECG, respiration, PPG and trends.